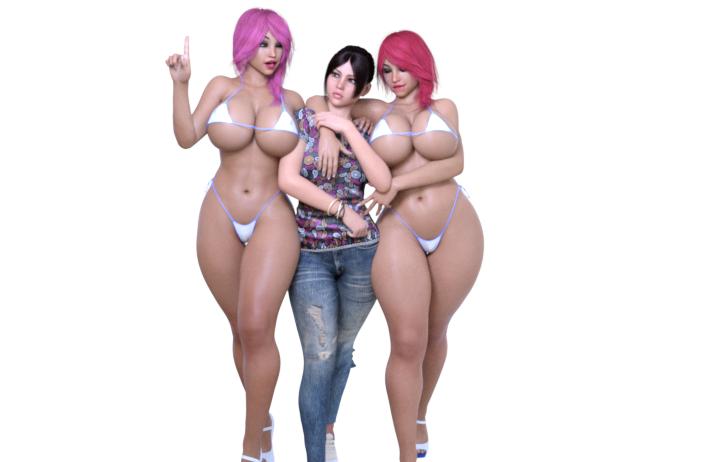 Aika Trap Quest Release 13 version 10.0
Porn Games
Trap Quest is an erotic text-heavy turn-based clickable-text-input roguelike game which can be run in Windows, older versions of MacOS (newer versions have to use the glitchy Gargoyle or emulate Windows), Linux, and (to some lesser extent) Android and iOS. Its premise is that you're playing a very difficult virtual reality game and your body and mind are transformed in response to the events that happen in the game while you search for the exit.
Changelist
MAJOR CHANGES

As you'll know if you follow the progress tracker, the crazy big thing Aika has been working on for the last several weeks, is errands.
You can ask friendly intelligent NPCs for various things, as a talk option.
The main thing you can ask them for is their held items.
They may decline, or they may come up with a price - you need to do something for them, or get something for them and bring it back to them.
Complete the errand and return to the NPC to get the agreed upon reward.
As long as you don't look crazy slutty, you may even be able to calm down an NPC who was about to get angry and fuck you, by having a completed errand waiting for them when they see you.
They should resolve the errand when they first spot you, or in some cases you can offer them the item you were supposed to retrieve (or the body part you were supposed to transform!).
Full list of potential errands so far:
Any NPC except robots:
[Egg laying] Get a small egg from a vine. You may realize, there's only one way to do that.
Obtain a fertility idol (it will have spawned in a random room in the mansion).
You'll usually only get this once per game.
When you pick up the fertility idol, there's a 50% chance it'll be a cursed idol. A cursed idol either instantly makes you pregnant if possible, or otherwise significantly grows your bust and butt.
When you pick up the fertility idol as a man, it will always transform you into a woman if you have common spontaneous TG events enabled.
Have zero wisps following you around.
If you have less than two wisps, you'll gain wisps until you have two.
Adventurer:
Settle her debt with the pimp.
Aeromancer:
Rescue her favourite pencil from inside the vine boss room.
Centaur:
Get a royal sigil (requires you to defeat a royal guard and demand an item from him... possibly multiple times)
Cultist:
Get pregnant!
Get drunk!
Demoness:
Attack another adventurer! (Not Barbara)
Dominatrix:
Bring her the cock candle
Let her lock you in chastity
Gladiator:
Get bigger boobs!
Icarus:
Use a prayer at the altar to pray for his reward!
Kitsune:
Show her something you stole from the shopkeeper!
Matron:
Let her lock you in chastity
Mechanic:
Reboot the robochef (might cause it to get angry!)
Obtain the amulet
Orc:
Get a bigger butt!
Pimp:
Attack another adventurer! (Not Barbara)
Wear the portal hotpants and bra, and go into debt.
Princess:
Collect a delivery from the shopkeeper and bring it to her
As a bonus, after this, if you get her in the same room as the shopkeeper, there's a fun special scene.
All Robots:
Find a spare battery (somewhere in the hotel)
Robochef:
Deliver a rather lewd cookie to the vampiress
When you deliver it she'll offer you a bite, this usually increases strength, dex, intelligence and anal sex addiction by 1, but if you get unlucky, just increases anal sex addiction by 3.
Royal Guard:
[Lactation] Give him a cup full of milk
Shopkeeper:
Deliver a slave collar to the pimp
If you owe him money, he might put it on you after you deliver it!
Unicorn:
Deliver love letters to the mechanic
Vampiress:
Get some cum from a wench in a cup, and bring it to her.
Wench:
She's being attacked by a royal guard! She asks you to protect her.
Witch:
Attack another adventurer! (Not Barbara)
Wrestler:
Kiss her while you've got cum in your mouth
[Watersports] Be her urinal
Most NPCs have been given an item or two that you might want to beg them for, and obviously they may gain other stuff you want, for example the key to your bondage. Apart from that, there's only a few special requests, so far.
If you're wielding the gladiator sword and it's got its magical chain bound to your wrist because you've run away from some fights, you can ask her to help you remove it.
If you've been given an errand from an adventurer to get the pimp to forgive her debt, you can specifically ask that of the pimp.
[Watersports] You can ask a wrestler, wench, or diamond+ ranked student to be your urinal as a favour.
(I added this because [for beta & alpha testers] at diamond+ rank, the headmistress refuses to give you the key to the toilets, and says that at this rank, you should be using each other as toilets.
Make sure you actually need to pee when you find them after completing the errand, or it'll have been for nothing. You either use them right then and there, or waste your reward.
Reworked the statues in the dungeon statue hall.
There's now exactly six dicks to choose between sucking.
There's six effects that can happen when you suck a dick, one for each dick, but which effect occurs when you suck which dick is randomized at the start of the game.
There's three good effects and three bad effects. (For people without vaginas, there's only two good effects.)
You'll also always get a full mouth of semen. You might as well swallow it immediately in most circumstances, because even if you decide not to, you still get the semen taste addiction increase.
The exception to this is that one of the bad effects is a new curse wisp that encourages you to go swimming before you lose your mouthful.
You should only need to experience each bad effect once! Once you've learned which cocks are the good ones and which ones are the bad ones, you can then easily avoid the bad ones.



10.12.2022 add Release 13 version 10.0