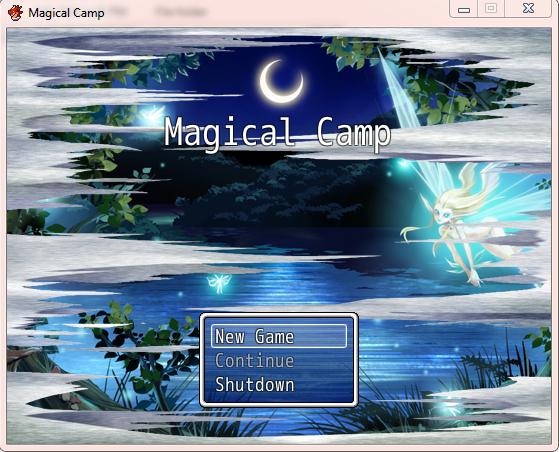 Magical Camp by HLF version pre-0.5d
Porn Games
In Magical Camp, you play as a young loser who through a twist of fate finds himself trapped in a boot camp for Magical Girls. Now he has to hide his true identity and somehow find a way to escape before the psychotic camp director finds him. Fortunately, his fellow campers seem happy to help him improve his disguise, but how far is he really willing to go?​
0.5 pre revision d:
-reduced total file size by converting several of the new music tracks into more appropriate formats
-added new skill combo to new area's mid-boss
-reduced the stats of the new area's boss and flunkies slightly
-resorted bestiary entries for new event area
-added descriptions to several enemies who lacked them
-added descriptions and skill to a new core
-changed Veronica's Marble Sceptre's ATK to 20 (was 15), MAT to 15 (was 20), and added the chance-based DEFdown mechanic from the Imperial Sceptre (75% likeliness, not counting LUK values)
-changed Veronica's Silver Mace's ATK to 5 (was 15) and MAT to 25 (was 15)
-players can no longer go on dangerous missions (like the Mermaid Caves mk2) or do similar side-content (like Watanabe Inn) while the new event is being prepared
-fixed various battles using incorrect enemies
-fixed battle flames during the event not resetting when escaped from
-fixed tileset issues on some maps
-fixed music issues in the new big event
-fixed players not getting the key and notebook at the end of the quest given one particular outcome
-fixed Yoshida's Spell-Reflecting Stance not working correctly
-fixed the accidental renaming of the ganguro version of Isabelle ("GanIsa") and also fixed her stats
-fixed the Mimic Core not taking Eri's actual teammates into account
-fixed the Serpentine Core being unsiphonable when gained during the event instead of the regular way
-fixed Rania not counting as a party success
-getting two of the same secret weapon is no longer possible + that weapon now has a description and proper stats
-removed the new NPCs Agedia and Sally until further notice since they were not supposed to be available yet to begin with
-Grammar and spelling fixes, ho!



19.08.2022 add version pre-0.5d