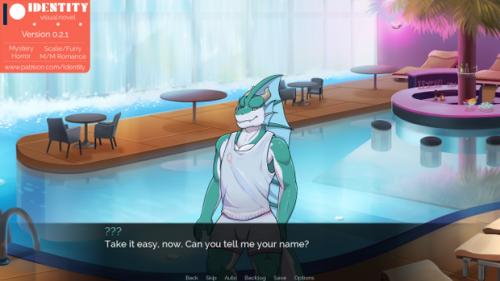 Juicy Drake Studios Identity Godot Demo 3
Porn Game
A recent traumatic incident rendered you unable to recall anything prior to it. Memories of your life and origins, everything you loved and cared about, they all went down the drain in an instant. Right now, your only shot at redemption is to find out what truly happened and who did this to you. But beware, as danger often lurks around the corner and can take any form...
Changelog

- Revamped Day 1 with audio and tutorial segment.
- Added ability to automatically advance text (auto-forward).
- Added ability to keep skipping after choices and to skip unseen text.
- Added confirmation dialogs for various actions in-game.
- Added an options menu. Note: text reveal speed not yet implemented.
- Made skipping more reliable.
- Improved input handling for keyboard, controller and touch controls. More work is still needed for some menus and interactions.
- Added audio playback support. Crossfading between tracks also supported.
- Added a play time tracker to save files.
- Added list of credits.
- Added a controls/help menu.
- Fixed save thumbnail rendering on mobile.

Notes

- Controller support is implemented but not yet obvious in the controls menu.
- 'Move' transitions are not implemented yet, shouldn't impede gameplay.
- Sometimes audio may not behave properly, particularly when skipping. Simply save and load back up and the issues should be solved.



28.07.2022